A day with: The Mustard Mix
A first birthday usually involves milestone achievements like learning your footing, keeping balance, comprehending your limits and doing everything you can to crash through them. For Brisbane creative music agency The Mustard Mix, turning one has looked a little different, but has definitely still taught them a thing or two about growth, making mistakes and breaking down expectations.
Cultivating a scene and building a creative platform for upcoming and established musicians has been the name of the game for The Mustard Mix since day dot. Now, coming down from their psychedelic first birthday bash at The Foundry, we took the opportunity to sit down with the team (consisting of Summer, Evie, Elke and Madeline) to chat and reminisce over the year that was.
I feel like a lot of people know what The Mustard Mix is, but not who they are. Would you like to introduce yourselves?
Summer: I'm Summer and I started Mustard. My title is Creative Producer and I also do management for artists. Even though that's my role, all the decisions are very collaborative and made together. But in terms of when we are doing an event or music video, I cover more of the creative producing.
Evie: I'm Evie and I sort of have similar roles: Creative Producer, artist management, social media and PR. Basically, all the behind the scenes organisation.
Elke: I'm Elke and I'm one of the two artists in Mustard. I do graphic design, social media content and lots of art stuff, so: content ideation, concept ideation, event planning, event construction and constructing the scene of an event. My focus is concept creation.
Maddie: My name's Madeline and my role is Creative Director, but also video manager. I direct a lot of the video and photo content and I also help out with a bit of the design.
How did you all come together to form The Mustard Mix?
Summer: Mustard's been around for a year now and at the beginning it was just Maddie and I. Then, towards the end of the year when Maddie was creating a lot of the content and I was doing all of the organising and planning, I realised we probably needed more people to help execute what we wanted.
So, I made an Instagram story and Elke and Evie were some of the people that reached out. It was an easy, 'Yes, let's do this'. From there it's been awesome to work as equals creatively and we really respect each other and admire each other's work. For me, it's a perfect and harmonious team.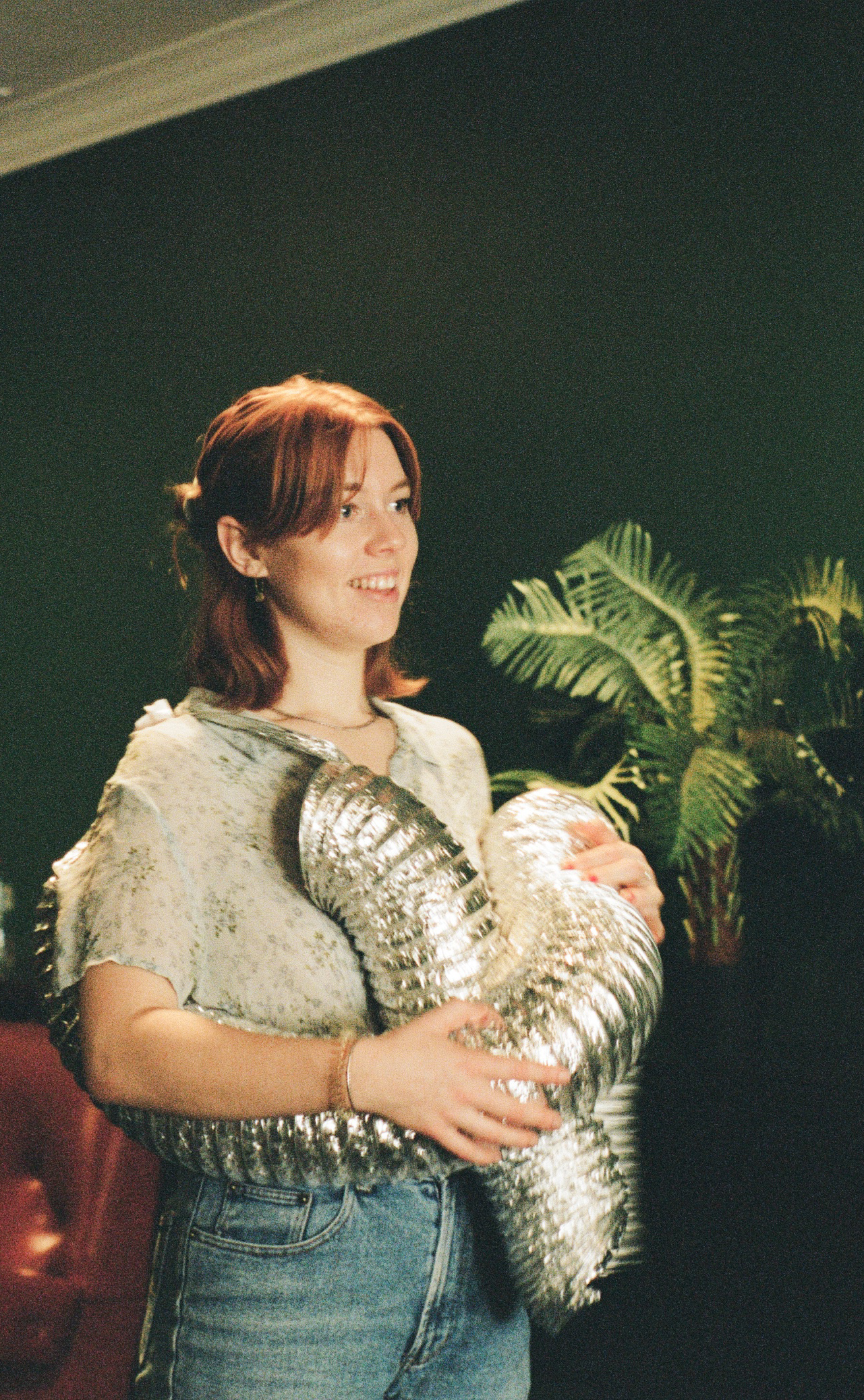 "We're really not driven by the same things we were driven by a year ago. Before it was really just about creating stuff, but now it's about refining what we're creating."
After coming down from first birthday celebrations last Friday how are we all feeling?
Summer: Amazing. We've seen a lot of the artists before and it was definitely the best sets they've ever played. The energy was so good and so many people – even if they didn't necessarily say it directly to us – were commenting on how good the night was.
Our events really focus on stage design and it really changes the energy of the room. One of the artists that played, his dad actually played saxophone with him, and he's been around playing sax for ages, and he really enjoyed himself.
Elke: Did he?!
Summer: Yes, I was shocked! I thought he would hate it because it was such a crazy concept, but he loved it. How we were coordinating different bands and how everyone's energy was so positive—it was so impressive.
Elke: It also felt really involved and the artists and the audience really connected.
Evie: It all blended so well, from the music matching the stage design and setting the mood for the audience.
Summer: There was the umbrella of psychedelic music; you had your psychedelic jazz, surf psych, psych rock, there was soul, jazzy pop and psych pop, folk psych then dream pop. All completely different, yet it really worked.
Evie: Everyone that I've spoken to that went to the event had such a positive experience and everyone took away something different, which is just so great to hear.
I think that speaks volumes about what The Mustard Mix is all about. Essentially this event was in celebration of your first year, but from what I'm hearing the night wasn't about that. It was about the experience for everyone else and the music.
Summer: It's not about us. It's all about the music.
Maddie: That's why we all put so much hard work in.
What goes into the BTS of a Mustard Mix event?
Summer: At the start it's an email. When can we do this? Then it's a picnic and a brainstorm.
Elke: Yeah. From there, we start to ideate and express what we want it to feel like. Then we start to mix that with what it's going to sound like. Then we start to get into the physicality, like what will actually be put up on the walls and within the room.
Summer: In the background whilst this is going on, it's organising set times, reaching out to artists, creating a dream line-up and working back from that.
Elke: Once that's all locked in, Maddie and I would work on the poster and have that as the launchpad for the aesthetics of the theme and evolve from that. We start getting decorations together, which can take about a month to organise. Then we move into promotion and social media content, making videos and thinking about merchandise. So it really comes from this one concept and it builds and becomes more physical.
Summer: On the day, we just do what Elke tells us to and not to. We had a big paint day before our birthday event, working on these planets we had for the stage and it became very clear very quickly that painting was not the job for Evie and I. We'll stick to emails, which is still super important.
What has The Mustard Mix taught each of you over the past year?
Elke: Working in The Mustard Mix has taught me how to communicate my ideas. I might have a really well thought out concept in my head but to explain it to a team and materialise it you have to define it and be able to articulate it. I've learnt to talk about my practice a lot better, which has helped me move into a more professional space, which is great.
Maddie: For me, when we first started I had no confidence in my work and I really didn't believe in myself at all. But when you have people pushing you and reminding you that you're capable -
Summer: Or more like you don't have a choice, we have to release it haha.
Maddie: Yeah, even just taking photos and you feel like they're not the best, but you have to release them because you have a deadline. That's a big thing, training myself to make a promise and keeping to it. That's just made me a better artist and helped me work better in a team. Before I had a real habit of secluding myself and assuring myself I could do things by myself, but when working with other people the end product is so much better than what you could've achieved alone. I think it's been the best thing that's happened to me over the past year.
Evie: I had always been sort of lost. I reached out to Summer, who I've known for ages from our netball days, and I knew I wanted to be a part of what she was doing. Now it's just completely taken over my life in the best way. Just having a sense of direction and insight into the creative side of things. Personally, I'm not the most artistic, but to still be involved in the scene and contribute in my own way has been great.
Summer: Communication. It's also knowing how to express how you feel without being hurtful, then also not taking things personally. Learning how to be wrong and making mistakes too. I've also learnt to deal with stress a lot better because I have no choice. There's a lot to be stressed about, but if I'm stressed all the time I'll never enjoy it.
How do you think Brisbane has received The Mustard Mix so far?
Summer: I think it's the effort we go to and all the little things. Every little decision, even though it seems so stupid to think about, like, 'I don't want that decoration there', it all helps and I think it shows how much we care.
Maddie: I also think because Brisbane is still quite small and growing, it's a really great place to start things. Everyone feels like we're helping each other out and we're all growing together rather than competing.
What does The Mustard Mix have in store for its second year?
Summer: We have some great opportunities coming up that are a bit more politically and socially inclined. We have a bit more of a platform now. We still want to continue what we're doing—like the events, Mustard tapes, art for bands and music videos—but then also we'd like to be putting out a deeper message. There are people that want to talk about these things that don't know how to, because some of these topics are hard to communicate. With a video that's engaging, there's an opportunity there.
One of our past events, The Divine Feminine Energy, was around International Women's Day and was for charity. Especially being an all-female company, we want to keep advocating for women in the industry.
We're really not driven by the same things we were driven by a year ago. Before it was really just about creating stuff, but now it's about refining what we're creating.
Evie: Before it was just putting stuff out there, but now it's like we have a voice. What do we want to say? Because above all, we never want to lose the love of it and we want to be inspired by what we make.
You can check out The Mustard Mix on Instagram and Facebook.