The Shared Table: Summer Salads
Vegan Potato and Broccolini Salad
Vegan, gluten free, leftover friendly
Serves 8 as a side
Cooking the potatoes twice and dressing the salad while it's warm allows the flavours to really soak in, making this potato salad worlds apart from its often bland and mayonnaise-laden relative. The coconut yoghurt gives it a very fragrant note, but it still provides a familiar creaminess. In the same way bacon bits add to a traditional potato salad, a scattering of crispy fried onions finishes this one off beautifully. You can buy them in packets or jars from most bulk food or Asian food stores. The salad can be made ahead of time, though I like it best super fresh and still a little warm.
Ingredients:
500g waxy potatoes, chopped into 2cm cubes

¼ cup olive oil

1 red onion, thinly sliced

1 bunch broccolini, chopped into 3cm long spears

4 cloves garlic, thinly sliced

300g coconut yoghurt

½ cup dill, chopped

½ cup Italian parsley, chopped

zest and juice of one lemon

2 tsp dijon mustard

½ tsp salt and pepper, to taste

¼ cup crispy fried onions or shallots
Method:
Place potatoes in a saucepan and cover with cold water. Bring to the boil over a high heat, then reduce the heat to low. Allow potatoes to simmer for 10–12 minutes or until they are tender when skewered with a fork. Discard water and allow potatoes to cool slightly.

Heat olive oil in a large frypan over a high heat. Add onions and sizzle for a few minutes, tossing regularly. Add the cooled potatoes and cook for a few minutes, until some of the potatoes are beginning to turn golden. Add broccolini and garlic along with a pinch of salt and pepper, and turn the heat down slightly. Cook for a further 3–5 minutes, tossing regularly, until the broccolini has turned bright green.

Set the pan of veggies aside and allow to cool for 5–10 minutes. Meanwhile, combine the yoghurt, mustard, lemon juice, zest and plenty of seasoning in a small bowl. Pour the dressing over the warm vegetables (in the frypan) and gently mix well to combine. Add most of the fresh herbs and mix them in, reserving some to scatter on top.

Transfer the mix to a serving bowl. Scatter remaining herbs and crispy fried onions over the top and serve.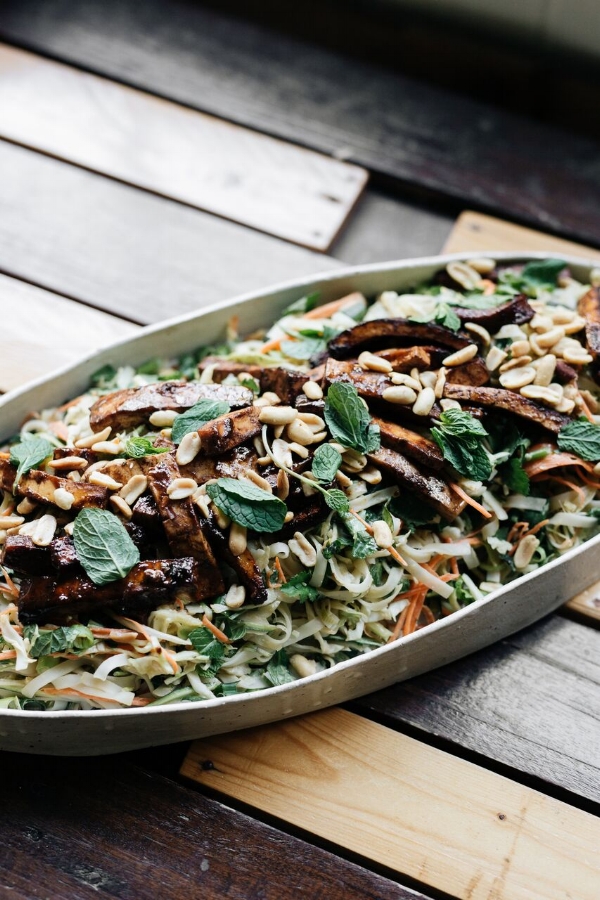 Pad Thai Salad with Sticky Tofu
Vegan, gluten free, leftover friendly
Makes one large bowl, serves 2–3 as a main or 6 as a side

This beautiful warm noodle salad is loaded with fresh veggies, crunchy nuts and dressed with the most heavenly dressing. Seriously, this dressing is so good that I recommend tripling the amount and having some set aside ready for a last minute addition to another meal. This salad is packed with healthy stuff but is so delicious that it still feels like comfort food and is the perfect lunch or dinner on a balmy day.
Ingredients:
1 zucchini, sliced into thin ribbons a similar size to the noodles

1 carrot, sliced into thin ribbons

¼ white cabbage, shredded very finely

200g flat rice noodles (sometimes called pad thai noodles)

1 bunch coriander, chopped

1 large handful mint leaves, thinly sliced

½ bunch shallots, thinly chopped

½ cup roughly chopped peanuts (cashews or almonds will also work)
Tofu:
250g firm tofu, pressed to remove excess water, and sliced into thin strips

1 tbsp brown sugar

2 tbsp soy sauce

1 tsp Chinese 5 spice

2 cloves garlic, minced

juice of half a lime

1 tbsp sesame oil

1/2 tbsp sriracha (or your chilli sauce of choice)

salt and pepper, to taste
Dressing:
2 tbsp peanut butter

1 tbsp tahini (or extra peanut butter)

juice of 1 lime

2 tbsp soy sauce

1 tbsp fish sauce (or extra soy if you don't eat fish sauce)

1/2 tbsp brown sugar

200ml coconut milk

salt and pepper, to taste
Method:
In a medium-sized bowl, combine all of the tofu marinade ingredients. Gently coat the tofu strips and then set aside to marinate for at least 10 minutes, up to 24 hours.

In a large frypan, heat a splash of olive oil and add the peanuts. Cook on a low heat for 4–5 minutes, tossing often, until they turn golden. Make sure to watch them very closely—nuts tend to burn very easily. Season with a little salt and set aside in a bowl.

Combine all the vegetables in a large salad bowl, reserving a little coriander for sprinkling on top. Cook noodles in boiling water until al dente, then drain, rinse with some cold water and add to the vegetables.

In the same frypan you used to fry the nuts, heat a splash of oil over a medium heat until searing hot. Add the tofu to the pan and try to spread it out as evenly as possible. Cook for 2–3 minutes or until the tofu is browning and the marinade has become sticky and dark in colour. Turn each piece over and cook on the other side for another 2 minutes. When all the tofu is cooked, add to the salad and gently mix through.

Meanwhile, combine all of the dressing ingredients in a small saucepan over medium heat. Whisk until the mixture is beginning to simmer. Taste and adjust the seasoning to your liking. Allow the mixture to cool for a few minutes

Dress the salad and combine gently until it is evenly distributed. Scatter the toasted nuts and extra coriander on top, and add an extra squeeze of lime and sprinkle of chilli if you like.
Note: It's important to slice all of your vegetables incredibly thin. I use a vegetable peeler or a spiralizer to slice my carrot and zucchini. You could also use a mandolin or food processor with a slicing attachment.
To purchase The Shared Table book, or for more recipes, visit their website or Instagram.
You can pre-order The Shared Table with 10% off using code "PREORDER".